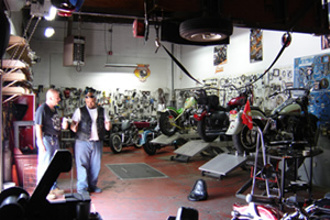 Hudson County Custom Cycles was started in late 1993 and it's hard to believe that it's been almost 12 years since we first opened. We started out mounting tires, fixing break downs, and just about anything that came along. But we made a commitment to specialize in Harley Davidson only and the reason why is because it is what we rode and what my first motorcycle was. I believe if you become familiar with one product exclusively you will become more proficient in its repair. Before opening H.C.C.C. I spent 22 years in the mechanics trade working for several auto franchises including Chevy, Chrysler, Olds, and Cadillac. You learn many tricks of the trade over the years that one could not learn just from reading a book or magazine. The custom bike industry has become tremendous there are more builders than at any time since we started. We feel confident and ready to handles service modification and general maintenance to any custom or factory bike.


Honesty and integrity are keys to a good customer relationship and we will always strive to achieve this. And thanks to our friends and loyal customers we hope to make the next 12 years better than the first. We carry a full line of custom parts from the major players along with Custom Chrome, Drag Specialties, Kury Akyn, Arlen Ness, Pro One, Barnette, Rivera, P.M., Tedd Cycle, Custom Cycle Engineering, S&S Cycle, Frames From Daytec, Atles, Wareagle, Paul Yaffe, Zipper's Performance Products, and others. We try to make orders fast and easy. Just come in and try us out.

Please browse through the site and view some pictures of the work we have done over the years. We hope to hear from anyone interested in the future. We are open six days a week.
Monday – Friday: 9:30 a.m. to 7:30 p.m.
Saturday: 9:30 a.m. to 5:00 p.m.